As the scope and range of outdoor pursuits grows and mountain athletes continue to specialize, the need for activity-specific outerwear tech is more apparent than ever. To satisfy the wide range of performance needs, Gore-Tex offers three unique technologies—Gore-Tex, Gore-Tex Pro, and Gore-Tex Active.
But before we break it down, a few definitions are in order. At the heart of the Gore-Tex fabric is an extremely thin membrane with over nine billion pores per square inch (as shown to the right between the two fabrics). These microscopic pores are 20,000 times smaller than a water droplet, so they don't allow water to pass through. At the same time, they're also 700 times larger than a water vapor molecule, so when you start to warm up and release water vapor, it's not trapped under the garment. That's what is referred to as breathability. The membrane is also windproof, so chilly breezes won't drive you indoors.
This membrane is bonded to a textile to create a Gore-Tex laminate. Several different constructions can be used; the most common are two-layer (2L) construction, where the membrane is bonded to just the face fabric (and the liner fabric 'hangs' between you and the membrane), and three-layer (3L) construction, where a backer fabric is bonded to the other side of the membrane.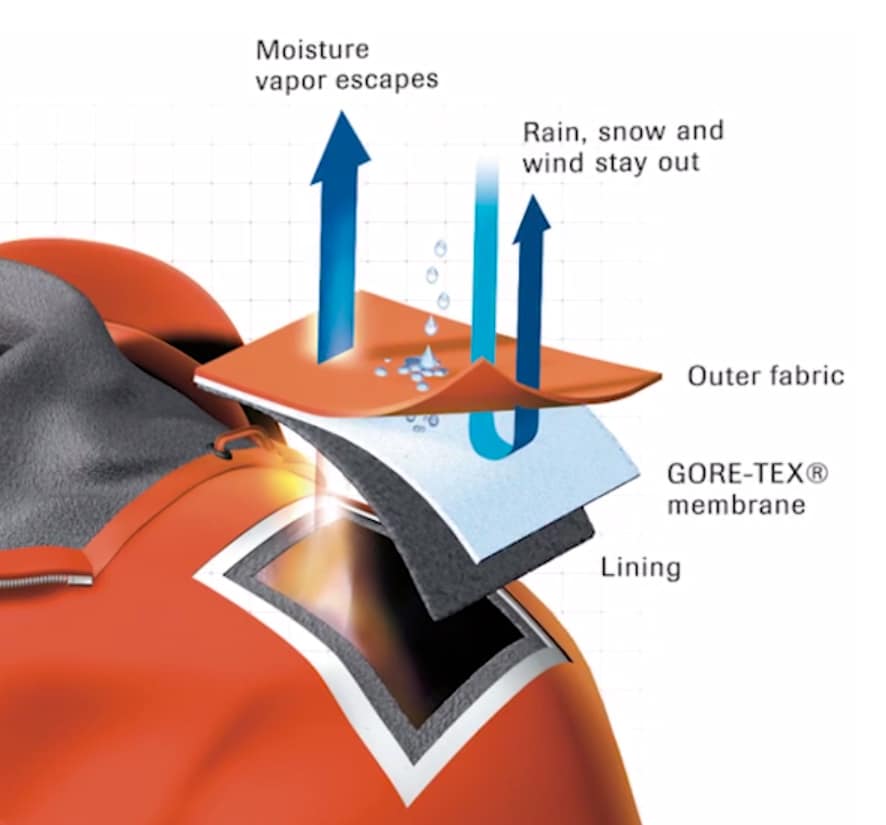 All Gore-Tex fabrics also feature a DWR (durable water-repellent treatment) on the outer face fabric. This treatment makes water bead up and roll off, so it's less likely soak in and try to force its way to the interior of the garment. Check out DWR Decoded for more info. Fully taped seams, standard on all Gore-Tex garments, also cut off a potential way for water to make its way to you.
Gore-Tex uses different membranes in its technologies, depending on its intended use of the garment. Gore-Tex is the jack-of-all-trades of the line; the most versatile of the three technologies, this membrane is designed to maximize comfort when you're out in the elements. Gore-Tex technology can be found in a huge range of products, working with a variety of fabrics and construction methods.
Featuring a cutting-edge patent-pending technology, Gore-Tex Pro is designed to perform for the most serious athletes in the most extreme conditions. The 100% ePFT membrane is over 28% more breathable than that of its predecessor, Gore-Tex Pro Shell. The enhanced moisture management makes it ideal for pronounced work-rest cycles, like intense climbing pitches coupled with chilly belays. To ensure expedition-worthy durability and abrasion-resistance, all garments engineered with Gore-Tex Pro are required to use heavier face fabrics (40+ denier), and always feature a three-layer construction.
Extremely lightweight and extremely breathable, the Gore-Tex Active laminate is the ideal choice for fast-paced outdoor pursuits like mountain running or ski touring that require continuous aerobic output. The streamlined three-layer membrane cuts weight, packs down small, and still offers the wind and waterproof protection you expect from Gore-Tex. To reduce weight and bulk, garments engineered with Gore-Tex Active must use face fabrics that are 40 denier or less.
Source: Backcountry Blog