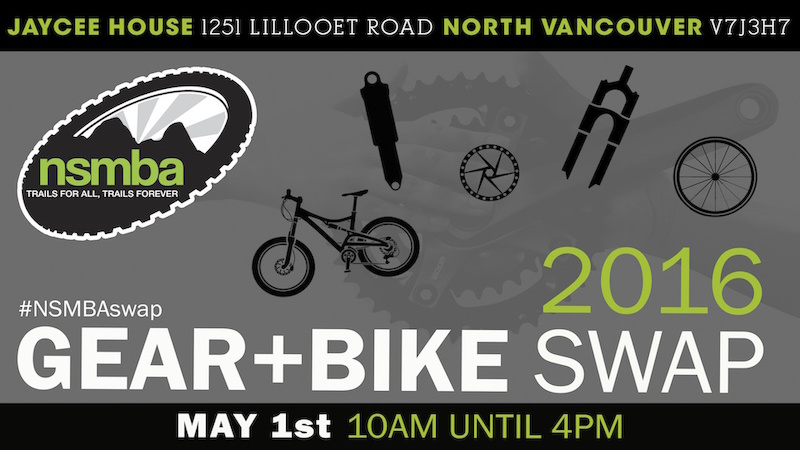 The North Shore Mountain Bike Association is proud to present the 2016 edition of the NSMBA Bike + Gear Swap May 1, 2016 at
Jaycee House, 1251 Lillooet Rd. in North Vancouver
. This is a great opportunity to clear out your closet, garage, or basement and also pick up some great deals on new and lightly used bikes and gear all while helping the NSMBA. You will find Mountain, Road and BMX bikes and gear at awesome prices.
Sellers
- We accept all sorts of gear and bikes. Drop off your items on Friday April 29th between 6PM - 10PM, or Saturday April 30th 10AM - 2PM at Jaycee House.
- Drop off cost: $2 per item
- Selling fee: 15% from the proceeds of each item sold, up to $120 per item. The fee includes all credit card transaction and admin fees.
- Discounts: Available to high volume sellers. We are looking to you big brands looking to off load older product, while supporting the local trail network.
- Collection: Collect cash and unsold items as of 5:00PM on May 1st at Jaycee House. (Items not picked up at this time will be given away for donation).
- Please note that we will not accept stolen goods (scratched serial numbers, on the RCMP stolen bike registry), goods that are damaged beyond use or in such poor condition to be unsaleable, and used helmets (as we cannot ensure their safety).
Volunteer
To volunteer for the event contact Cynthia@nsmba.ca For any other questions or if you are a high volume seller (over 20 items) contact Sieneke@nsmba.ca
Shoppers
NSMBA members: Free admission & you will have first crack at the bikes and gear, with pre-shopping from 9:30-10AM on May 1st. Not a member? You can purchase your 2016 NSMBA membership
NOW
.
General admission: From 10 AM to 4PM, at a cost of $2.
Purchases can be paid for using cash, Visa, MasterCard, and debit.